Joe Benziger is right:
Your customers are younger and more interested in the fruit.
Terroir is a such huge advantage and for Pine Mountain Cloverdale Peak AVA this cannot be overstated. It's a compelling narrative, needing no embellishments, a strategic differentiator.
The fruit is like Anderson Valley on steroids.
—Lise Asimont, The Family Coppola
3 reasons for PMxCP AVA to create a web site that is visually compelling, simple to understand and easy to use.
1. Inform people about who, what, why & help them decide to choose PMxCP wines.
Results = broaden awareness and increase interest
2. Reinforce positive news and experiences through stories by trusted sources, begin conversations.
Results = increase interest and deepen consideration
3. Create long term relationships.
Results = purchase and advocacy
BONUS: a new site will increase and support SEO for all members.
Pine Mountain, we think, will be recognized as one of the top regions in California for Cabernet Sauvignon.
—Hugh Reimers, COO, Jackson Family Wines
the process
1. strategy+planning
+ align on the PMxCP brand, what the purpose of the AVA is and set goals
+ develop organization for members to participate and follow
+ create new overall look-and-feel, voice, tone and narrative
2. content+design
+ build new framework for site
+ update interface (make it responsive!)
+ write new content
+ design for community engagement
3. test+future planning
+ test across browsers and devices
+ make recommendations for future iterations
+ roll out new brand across social channels: IG, FB, Twitter, YouTube
4. launch
the details
responsive, wordpress site
5-6 pages focused on the ava
1 page for each ava member that is lined to their site
1 new video (<2 mins)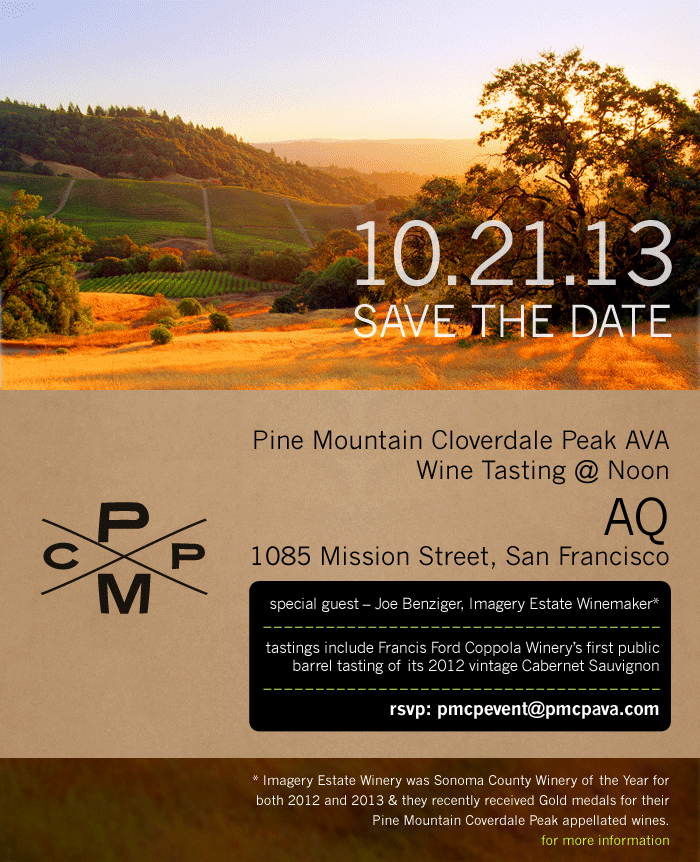 The higher
the elevation
the more concentrated
the flavor.
—Miro Tcholakov, winemaker
+1-415-505-2877. Thank you for this opportunity.
To rewatch opening video, click here.